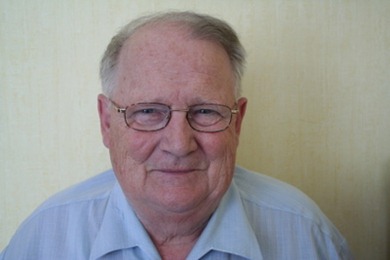 Otto Martin Günter Thonke was born on October 8, 1928 in the hospital of the city of Rathenow. He was baptized by the superintendent Waldemar Ettel at Sankt-Marien-Andreas-Church. His father, Gotthilf Wilhelm Thonke, was the master confectioner in Rathenow. His grandfather, Otto Thonke, (October 17, 1861-November 7, 1942) came from Seeren, the district of Oststernberg (today's Poland) to Rathenow as a master metalworker and had a smithy in Rathenow, at Havelstreet 16 on the corner of Little Castle Street.
His mother, Emmi Ida Thonke, née Müller, came from a medium sized farm in Buckow near Wudicke. Günter Thonke grew up with his brother Friedrich Wilhelm who was born on July 3,1944.
He attended primary school on Jahnstreet for three years and after that he attended Secondary School at the School Square in 1938 which he finished after the tenth year in 1943.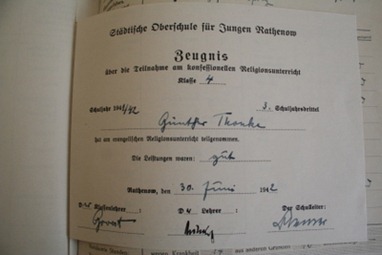 School record book
from 28.04.1938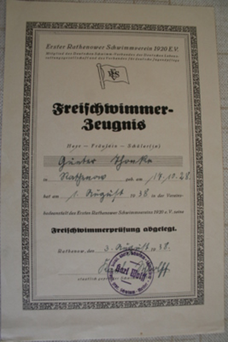 Certificate for swimmers
from 03.08.1938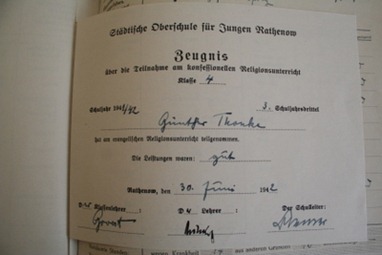 Certificate of religious education
from 30.06.1942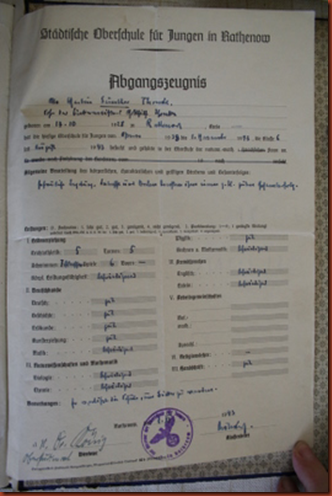 Leaving certificate from the Municipal Secondary School for Boys
from 1943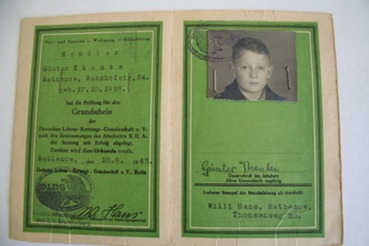 ID card with photo by Günter Thonke
as a member of the German-Livesaving e.V.
from 16.08.1943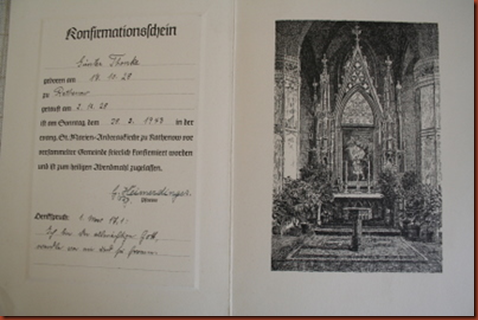 He should have been confirmed by the superintendent Georg Heimerdinger at the Sankt-Marien-Andreas- Church on February 28,1943. However he was taken ill and so he was confirmed by the pastor Detert.
His saying for his confirmation read: I am God Almighty. Live always in my presence to be blameless
( 1st Mose 17/1 ). After school he started an apprenticeship as a baker with his father but after four weeks he was sent to the master baker, Otto Wiedecker, in Potsdam where he finished his apprenticeship as a baker in January, 1945.
In 1945 Günter Thonke got the military call-up papers and one hour later for labour service to Laaslich in the Prignitz and later to Bad Wilsnack and Appendorf on the dyke.
Günter Thonke received the order to go to Berlin to liberate Berlin. As a result he came between the Russian and American front and he was captured by the Americans near Schwerin. He came in a camp to Holstein in Schleswig Holstein. From there he, a sixteen-year-old boy,was discharged to Magdeburg. From Magdeburg he went on a coal train to Stendal and crossed, dressed up as a railway employee, near Tangermünde the river Elbe. On July 16, 1945 he arrived Rathenow-West ( Neue Schleuse ) where his grandmother lived. She told him, that his parents were alive. He returned home to his parents and worked as a baker. In the spring 1946 he wanted to go to the Bismarckturm tower together with his friend Manfred Mertens. While doing so both were arrested and questioned by the Soviet secret service. They were reproached for polluting the water. But both were released again. He continued working as a baker with his father who said to him: "We won't become big any more. Getting small is difficult".
Besides the work in the bakery stones had to be broken.The family possessed an estate in the Berlin Street 25 which reached to the hotel Great Elector.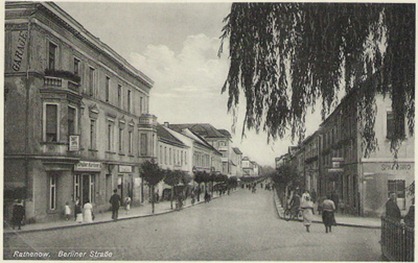 Hotel "Great Elector" (left) in Rathenow
Berlin Street before 1939
The family tried to rebuild it again. In 1960 this area was designated for construction in accordeance with the indemnification act "negotiated". In 1946 Günter Thonke passed the examination at the end of the apprenticeship with the master baker Blesing, in the Big Castle Street in Rathenow. In Potsdam after passing the exam he received recognition as a master baker in 1951 and in 1955 as a master confectioner.
Baker deed dated 16.10.1951
by the Master Committee of the Chamber of Craft of the Land Brandenburg
On February 22,1958 he married Anna Amanda Renate Tille who worked as a seed cultivation assistent in Bernburg. The marriage ceremony took place in the village church of Bindfelde where the pastor of Tangermünde Felgenträger married them. The saying of the marriage ceremony read. "There are three things that last forever. Faith, hope and love, and the greatest of the three is love (1st Korinther 13/13 ).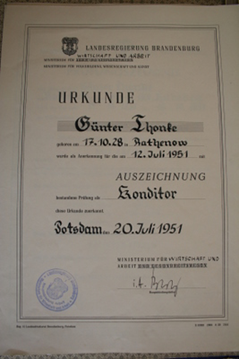 Confectioner certificate dated 20.07.1951
of the state government of Brandenburg
Ministry of Economy and Labor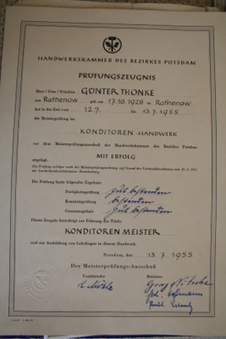 Master confectioner certificate dated 13.07.1955
by the Master Committee of the Chamber of Trade
of the district of Potsdam
The Thonke couple gave birth to their son Detlef on December 4, 1960 and to their son Olaf on November 28, 1965. Günter Thonke has six grandchildren now who he likes very much. In 1960 he took over his father's company after having been employed there for seventeen years. After that his father has worked there with his son for another seventeen years. Until 1988 Günter Thonke run the bakery. He then handed over the bakery to his son Olaf Thonke. Until 1992 he still collaborated with his son in the bakery.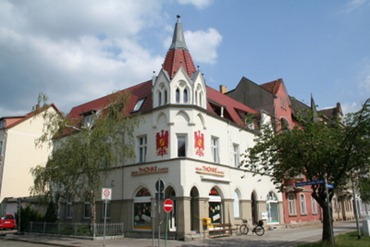 Bakery Thonke on Bahnhofstrasse in Rathenow

Afterwards he devoted himself to other activities. He discovered for himself writing and local history and he was tirelessly busy writing stories, anecdotes and glosses.
The works of Günter Thonke are very varied. He also commented publicly current political topics. Soon his far-reaching humour found a wide audiance because he had the gift of making other people laugh or at least thoughtful. That's why on May 6,2009 he was given the honorary citizen of Rathenow. On May 16,2009 he joined the support group to rebuild Sankt-Marien-Andreas- Church in Rathenow.

© Copyright : Dr. Heinz-Walter Knackmuß (04.07.2009)
Translated by Christine Holweger